Superior Dryer Vent Cleaning Equipment and Tools for Any Size Job.
Did You Know That 80% of all Home Fires Are Caused by a Buildup of Lint in the Vent of Your Dryer?
---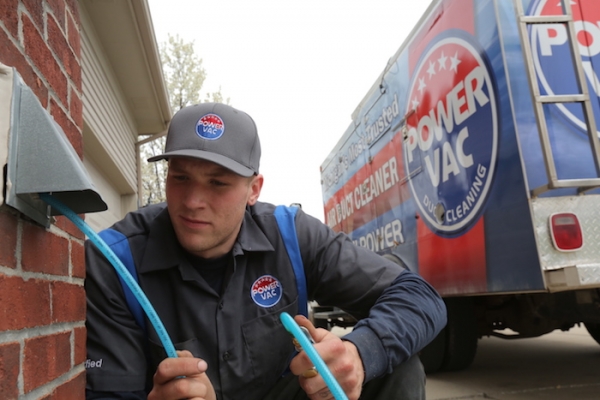 Power Vac uses industrial size air compressors to do the dryer vent cleaning and power out dryer vent snakes. Unlike other companies that use inadequate air compressors, like the one you might have in your garage, Power Vac uses only the best tools for the job.
When you combine the most powerful equipment in the industry with the most qualified technicians, you get a service that can't be beat. Power Vac covers many geographic locations including Auburn Hills, Novi, Livonia, Canton, St. Clair Shores, Ann Arbor, and the surrounding areas.
There are many warning signs that signal a dangerous level of lint build-up in the dryer, and means your dryer needs to be cleaned:
1. Your clothes are taking way longer to dry, or you need a couple of cycles to get them completely dry.
2. The clothes happen to come out very hot or the dryer is very hot at the end of the cycle.
3. The exhaust vent flapper doesn't open all the way, which is an indication of a low exhaust velocity.
4. The laundry room is very humid or has a burnt smell in it.
If you happen to notice any of these warning signs, stop using the dryer immediately and call our team at Power Vac. Just recognizing these symptoms could save you and your family from the dangers of a home fire and not keeping up with a regular maintenance routine. Make sure you book an appointment for a professional cleaning with better equipment and processes that will ensure your dryer is safe to use.
Apartment Building Dryer Vent Cleaning in Auburn Hills
Keep your multi-unit buildings safe for both residents and managers.
---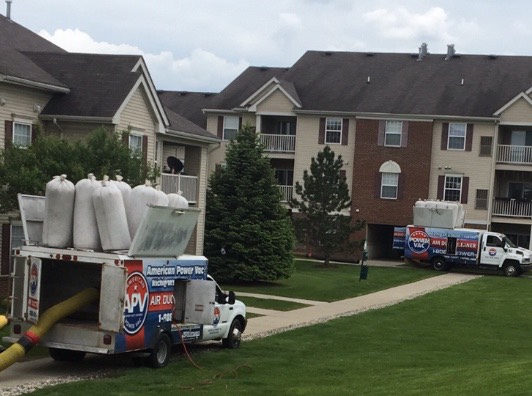 How to keep your apartments safe with is with an annual dryer vent inspections and cleaning.
At Power Vac, we specialize in helping you protect your apartments by inspecting your air duct and dryer vents to prevent dryer fires and other detrimental damages from occurring. We go beyond simply making sure the lint is cleared; we check to verify that your vent is expelling air outside rather than into a chimney or attic. We inspect your hose for rips or tears that could be allowing air to vent into your laundry room, as well as any kinks or red flags in relation to the kind of hose you currently have. We even evaluate the exterior flap to make sure that nothing is able to crawl into your dryer hose from the outside.
The risks of not inspecting your dryer's vent system are too great to avoid. We are here to help you make sure carbon monoxide is not flowing back into your apartment building and to help prevent moisture from being trapped in the vent. If nothing else, a dryer vent that isn't inspected annually and cleared out after every use means your dryer has to work overtime to dry your clothing.
In addition, most dryer vent fires are caused when there is a clogged line in the dryer and it can't exhaust properly. When the dryer overheats it can cause the flammable lint to combust, which in turn, can cause a house fire. To prevent this from happening, your dryer line should be cleaned and maintained yearly by a qualified professional such as the ones at Power Vac.
---
Power Vac has over 20 years of experience in the industry performing dryer vent inspections and vent cleaning. Our company is family owned & operated, which means you will receive the best service from trained professionals that care about you. We were voted Michigan's most trusted air duct cleaner year after year. Our company is committed to giving our clients a safe, natural alternative to a clean indoor environment, instead of using harsh chemicals.
Don't be stuck with damp clothes. Call the experts at Power Vac at (248) 656-0600 today to schedule your dryer vent inspection.