Dryer Vent Cleaning
Did You Know That 80% of all Home Fires Are Caused by a Buildup of Lint in the Vent of Your Dryer?
---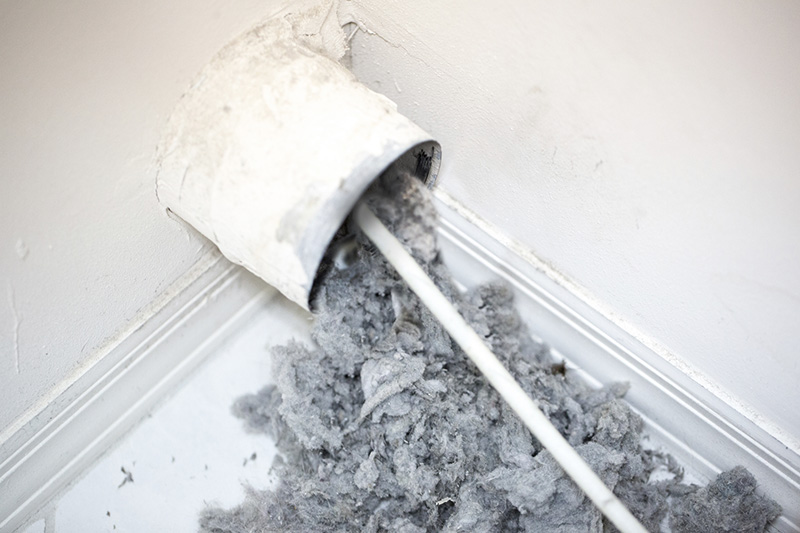 That's right. There is an easy solution to keep your family safe – just keep those vents in your dryer clean! At Power Vac, our team uses the best vent cleaners to make sure the dryer vent is clean and your home is safe.
Power Vac uses industrial size air compressors to do the dryer vent cleaning and power out dryer vent snakes. Unlike other companies that use inadequate air compressors, like the one you might have in your garage, Power Vac uses only the best tools for the job.
When you combine the most powerful equipment in the industry with the most qualified technicians, you get a service that can't be beat. Power Vac covers many geographic locations including Auburn Hills, Novi, Livonia, Canton, St. Clair Shores, Ann Arbor, and the surrounding areas.
In fact, most dryer vent fires are caused when there is a clogged line in the dryer and it can't exhaust properly. When the dryer overheats it can cause the flammable lint to combust, which in turn causes a house fire. To prevent this from happening, your dryer line should be cleaned and maintained yearly by a qualified professional.
There are many warning signs that signal a dangerous level of lint build-up in the dryer, and means your dryer needs to be cleaned:
1. Your clothes are taking way longer to dry, or you need a couple of cycles to get them completely dry.
2. The clothes happen to come out very hot or the dryer is very hot at the end of the cycle.
3. The exhaust vent flapper doesn't open all the way, which is an indication of a low exhaust velocity.
4. The laundry room is very humid or has a burnt smell in it.
If you happen to notice any of these warning signs, stop using the dryer immediately and call our team at Power Vac. Just recognizing these symptoms could save you and your family from the dangers of a home fire and not keeping up with a regular maintenance routine. Make sure you book an appointment for a professional cleaning with better equipment and processes that will ensure your dryer is safe to use.
---
Power Vac has over 20 years of experience in the industry using cleaners and dryer vent cleaning. The company is family owned & operated, which means you will receive the best service from trained professionals that care about you. It was voted Michigan's most trusted air duct cleaner year after year. The company is committed to giving our clients a safe, natural alternative to a clean indoor environment, instead of using harsh chemicals.